Un petit challenge Gilmore Girls?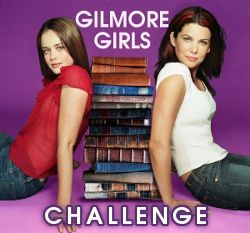 L'image n'est, of course, pas de moi et appartient aux créateurs de la série.  L'adaptation pour le challenge a été faite par Mr. Kiki, vu que je suis toujours aussi nulle pour faire ce genre de trucs!
Depuis le temps que je l'annonce, hein!
D'abord, je dis tout de suite, je ne l'ai nullement inventé ce challenge.  Il existe en anglais depuis plusieurs années sous le titre "Gilmore Girls Reading Challenge".  Je leur ai d'ailleurs envoyé un mail qui est sans réponse depuis des mois.  C'est aussi à cet endroit que j'ai pris ma liste de base, que j'ai complétée pendant mon écoute.  Bon, j'avoue, j'ai complété jusqu'à un certain point parce qu'un moment donné, j'étais un peu tannée de peser sur "pause" pour aller écrire le titre du roman auquel il était fait allusion.  Call me paresseuse, j'assume! Ensuite, j'ai trouvé d'autres listes, avec d'autres titres... et j'ai combiné allègrement les deux.  On se retrouve donc avec une loooongue liste.    
Bon, pour ceux qui ne connaissent pas, Gilmore Girls est une série télé que j'ai récemment écoutée au grand complet.  Au nombre de billets lus là-dessus depuis, je suis ceeeeertaine que vous ne vous en doutiez pas hein!    Et dans cette série, Rory, l'adolescente, lit tout le temps, en fait.  Une vraie LCA, qui trimballe toujours plusieurs livres avec elle, avec des critères bien précis.   La liste que vous verrez ici est la liste des livres que Rory lit ou auxquels il est fait allusion dans série.  Il y en a 343, donc, ya de quoi faire!  Je n'ai absolument pas vérifié par contre... et vraiment, au pire, ce n'est pas si grave!
Le plus gros de mon travail a été d'éliminer les doublons.. et de passer des heures à chercher les titres en français.  Des heures. Je n'exagère même pas.  Donc, quand c'est écrit "non traduit", ça veut simplement dire que je ne l'ai pas trouvé... ou que je me suis tannée de chercher.  S'il y a des erreurs, envoyez-moi un message et je vais corriger.  Poliment hein... ces temps-ci, on doit préciser...
Donc, le but du challenge, c'est de lire, d'ici le 31 décembre 2012, 3 des titres de la liste.  Oui, c'est fixe.  Oui, il y a une limite de temps.  Appelons ça des choix stratégiques ;)  Si vous le souhaitez, vous pouvez également faire un billet sur la série.  Mais c'est au choix. Il y aura peut-être un petit cadeau à la fin de tout ça... mais je n'ai encore rien décidé.  We'll see!

La dite liste, donc:
Albaret
Celeste
Monsieur Proust
Monsieur Proust
Albee
Edward
Who's Afraid of Virginia Woolf?
Qui a peur de Virginia Woolf
Albom
Mitch
The Five People You Meet in Heaven 
Les 5 personnes que j'ai rencontrées là-haut
Albom
Mitch
Tuesdays With Morrie
La dernière leçon
Alcott 
Louisa May
Little women
Les 4 filles du docteur March
Alexander
Robert
The Kitchen Boy
Le serviteur du Tsar

Ali
Monica
Brick Lane
Sept mers et treize rivières
Allende
Isabel
Eva Luna
Eva Luna
Allende
Isabel
House of the Spirits, The
La maison aux esprits
Anderson
Hans Christian
Little Match Girl, The
La petite fille aux allumettes
Arundhati
Roy
The God of Small Things 
Le dieu des petits riens
Ass authors
 
Norton Anthology of Theory & Criticism
 
Atwood
Margaret
Oryx and Crake 
Le dernier homme
Austen
Jane
Emma
Emma
Austen
Jane
Northanger Abbey
L'abbaye de Northanger
Austen
Jane
Pride & Prejudice
Orgueil et préjugés
Austen
Jane
Sense and Sensibility 
Raison et sentiment
Auster
Paul
Oracle Night 
La muit de l'oracle
Balzac
Honoré de
Cousin Bette 
Cousine Bette
Baum
L. Frank
Scarecrow of Oz, The (short story)
 
Baum
L. Frank
Wizard of Oz, The
Le magicien d'Oz
Beckett
Samuel
Waiting for Godot
En attendant Godot
Binyon
T. J.
Pushkin: A Biography
Pouchkine, une biographie
Blixen
Karen
Out of Africa
La ferme africaine
Blume
Judy
Deenie
Tiens-toi droite!
Bolles
Richard Nelson
What Color Is Your Parachute? 2005
(non traduit)
Boulgakov 
Mikhail
The Master and Margarita 
Le maître et Marguerite
Bourdain
Anthony
Kitchen Confidential: Adventures in the Culinary Underbelly
La surprise du chef
Bradbury
Ray
Fahrenheit 451 
Fahrenheit 451
Bronte
Charlotte
Jane Eyre
Jane Eyre
Bronte
Emily
Wuthering Heights
Les hauts de Hurlevent
Brothers Grimm
 
Rapunzel
Rapunzel
Brown
Dan
DaVinci Code, The
Le code DaVinci
Browning
Elizabeth Barrett
Sonnets From The Portuguese
Sonnets portuguais
Bugliosi & Gentry
Vincent & Curt
Helter Skelter: The True Story of the Manson Murders
La tuerie d'Hollywood - l'affaire Charles Manson
Bukowski
Charles
Notes of a Dirty Old Man
Journal d'un vieux dégueulasse
Burgess
Anthony
A Clockwork Orange
Orange mécanique
Butler
Judith
Gender Trouble
Trouble dans le genre
Capote
Truman
In Cold Blood
De sang froid
Carroll
Lewis
Alice's Adventures in Wonderland
Alice au pays des merveilles
Cervantes
 
Don Quixote
Don Quichotte
Chabon
Michael
The Amazing Adventures of Kavalier and Clay
Les extraordinaires aventures de Kavalier & Clay
Chaucer
Geoffrey
Canterbury Tales, The
Les contes de Canterbury
Chbosky
Stephen
Perks of Being A Wallflower, The
Pas raccord
Chopin 
Kate  
The Awakening 
L'éveil
Clinton
Hilary Rodham
It Takes A Village
Il faut tout un village pour élever un enfant
Clinton
Hilary Rodham
Living History
Mon histoire
Colette
 
Red light on a wedding night
Biotraphie de Colette
Collett
Anne
Swimming with Giants: My Encounters with Whales, Dolphins and Seals
(non traduit)
Collodi
Carol
Pinocchio
Pinnochio
Conrad
Joseph
Heart of Darkness 
Au coeur des ténèbres
Cook
Blanche Wiesen
Eleanor Roosevelt
Eleanor Roosevelt
Critser
Greg 
Fat Land : How Americans Became the Fattest People in the World
(non traduit)
Dante
 
Divine Comedy, The
La divine comédie
Dante
 
Inferno
L'enfer
Davies
Robertson
Manticore, The
Le manticore/Le lion avait un visage d'homme
De Beauvoir
Simone
Memoirs of a Dutiful Daughter
Mémoires d'une jeune fille rangée
De Beauvoir
Simone
The second sex
Le deuxième sexe
De Burgos
Julia
Song of the Simple Truth: The Complete Poems of Julia De Burgos 
Poésies complètes
Des Barres
Pamela
I'm With The Band
Confessions d'une groupie
Diamant
Anita
The Red Tent 
La fille de Jacob
Dickens
Charles
A Christmas Carol
Un conte de Noël
Dickens
Charles
A Tale of Two Cities
Un conte de deux villes
Dickens
Charles
David Cooperfield
David Copperfield
Dickens
Charles
Great Expectations
Les grandes espérances
Dickens
Charles
Little Dorrit
La petite Dorritt
Dickens
Charles
Oliver Twist
Oliver Twist
Dickens
Charles
Our Mutual Friend
L'ami commun
Dickinson
Emily
New Poems of Emily Dickinson
Nouveaux poèmes d'Emily Dickinson
Dickinson
Emily
Poems 
Poèmes
Didion
Joan
Year of Magical Thinking, The
L'année de la pensée magique
Dostoevsky
Fedor
Crime and Punishment
Crime et châtiment
Dostoevsky
Fyodor
Demons 
Les possédés
Dreiser 
Theodore
An American Tragedy 
Une tragédie américaine
Du Maurier
Daphne
Rebecca
Rébecca
Dubus III
Andre
House of Sand And Fog, The
La maison des sables et des brumes
Duff
Peter
The Bielski Brothers
 
Dumas
Alexandre
The Count of Monte Cristo 
Le comte de Monte Cristo
Dunn
Mark
Ella Minnow Pea 
 
Eco
Umberto
The Name of the Rose 
Le nom de la rose
Eggers
Dave
A Heartbreaking Work of Staggering Genius
Une oeuvre déchirante d'un génie renversant
Ehrenreich
Barbara
Nickel And Dimed
L'amérique pauvre: comment ne pas survivre en travaillant
Ellis
Bret Easton
Less Than Zero
Moins que zéro
Erdrich
Louise
Love Medicine
L'amour sorcier
Eugenides
Jeffrey
Middlesex 
Middlesex
Eugenides
Jeffrey
Virgin Suicides
Virgin Suicide
Faber
Michel
Crimson Petal and the White, The
La rose pourpre et le lys
Faludi
Susan
Backlash: The Undeclared War Against American Women
Backlash : la guerre froide contre les femmes
Farrell
Henry
What Happened To Baby Jane?
Qu'est-il arrivé à baby Jane?
Faulkner
William
As I Lay Dying
Tandis que j'agonise
Faulkner
William
Sanctuary
Sanctuaire
Faulkner
William
The Sound and The Fury 
Le bruit et la fureur
Finney
Jack
Time and Again
Le voyage de Simon Morley
Fitzgerald
F. Scott
Tender is the Night
Tendre est la nuit
Fitzgerald
F. Scott
The Great Gatsby 
Gatsby le magnifique
Flaubert
Gustave
Madame Bovary
Madame bovary
Fodor
Eugene
Selected Hotels of Europe
 
Foer
Jonathon Safran
Everything Is Illuminated
Tout est illuminé
Ford
Ford Madox
Good Soldier, The
Quelque chose au coeur/le bon soldat
Forster
E.M.
A Passage to India 
La route des Indes
Forster
E. M.
A Room With A View
Chambre avec vue
Frank
Anne
Anne Frank: The Diary of a Young Girl 
Journal d'Anne Frank
Franken
Al
Lies and the Lying Liars Who Tell Them
(non traduit)
Friedman
Milton
A Monetary History of the United States
(non traduit)
Gibbon
Edward
History of the Decline & Fall of The Roman Empire, The
Histoire de la décadence et de la chute de l'Empire romain
Gibson
William
Miracle Worker, The
(non traduit)
Ginsburg
Allen
Howl
(non traduit)
Gogol
Nikolai Vasilevich
Dead Souls
Les âmes mortes
Goldberg
Mila
Bee Season
La saison du concours
Golding
William
Lord of the Flies 
Sa majesté des mouches
Goldman
William
Marathon Man
Marathon Man
Grafton
Sue
R is For Richocet
R comme ricochet
Grafton
Sue
S is For Silence
S comme silence
Granowsky
Alvin
Goldilocks & The Three Bears
Boucle d'or et les 3 ours
Grealy 
Lucy
Autobiography of a Face 
L'autobiographie d'un visage
Grimm Brothers
 
Snow White and Rose Red
Blanche Neige et Rose-Rouge
Guest
Tim
My Life in Orange 
(non traduit)
Haddon
Mark
The Curious Incident of the Dog in the Night-Time 
Le curieux incident du chien pendant la nuit
Harvard
Joe
Velvet Underground's The Velvet Underground & Nico (33 1/3 Series)
(non traduit)
Hathaway
Katharine Butler
Little Locksmith, The
(non traduit)
Hawthorne
Nathaniel
The Scarlet Letter 
La lettre écarlate
Heaney
Seamus
Beowulf: A New Verse Translation
Beowulf
Hegi 
Ursula
Sacred Time
(non traduit)
Heller
Joseph
Catch-22
Catch 22
Hellman
Lillian
Children's Hour, The
Les innocentes
Hemingway
Ernest
A Moveable Feast
Paris est une fête
Hemingway
Ernest
Snows of Killimanjaro
Les neiges du Kilimanjaro
Hemingway
Ernest
The Sun Also Rises 
Le soleil se lève aussi
Hemingway
Ernest
To Have And Have Not
En avoir ou pas
Hersh
Seymour M.
My Lai 4: A Report On The Massacre And Its Aftermath
(non traduit)
Hesse
Herman
Siddhartha 
Siddharta
Hillenbrand
Laura
Seabiscuit: An American Legend 
Seabiscuit
Hinton
S. E.
Outsiders, The
Outsiders
Holman
Virginia
Rescuing Patty Hearst 
(non traduit)
Homer
 
Iliad, The
L'iliade
Hornby
Nick
High Fidelity
High fidelity
Hornby
Nick
Songbook 
(non traduit)
Hornby
Nick
The Polysyllabic Spree 
(non traduit)
Hosseini 
Khaled
The Kite Runner 
Les cerf-volants de Kaboul
Howzell Hall
Rachel
A Quiet Storm 
(non traduit)
Huffington
Arianna
Pigs At The Trough
(non traduit)
Hugo
Victor
Hunchback of Notre Dame, The
Notre Dame de Paris
Huxley
Aldous
Brave New World 
Le meilleur des mondes
Hyland
M.J.
How the Light Gets In 
Le voyage de Lou
Irvin
Jim
Mojo Collection: The Ultimate Music Companion, The
 
Jackson
Shirley
The Lottery: And Other Stories 
La lotterie et autres histoires
James
Henry
Art of Fiction, The
 
James
Henry
Daisy Miller
Daisy Miller
Jensen
Jan Lars
Nervous System 
(non traduit)
Johnson
Spencer
Who Moved My Cheese?
Qui a piqué mon fromage
Joyce
James
Finnegan's Wake
La veillée des Finnegan
Joyce
James
Ulysses
Ulysses
Kafka
Franz
The Metamorphosis 
La métamorphose
Kafka
Franz
Trial, The
Le procès
Kagan
Donald
Archidamian War
(non traduit)
Kagan
Donald
Outbreak of the Peoponnesian War, The
(non traduit)
Kagan
Donald
Peace of Nicias & The Sicilian Expedition, The
(non traduit)
Kaysen
Susanna
Girl, Interrupted
Une  vie volée
Keene
Carolyn
The Nancy Drew Series
Alice, détective
Keller
Helen
The Story of My Life
L'histoire de ma vie
Kennedy
William J.
Ironweed
(non traduit)
Kerouac
Jack
On The Road
Sur la route
Kesey
Ken
One Flew Over the Cuckoo's Nest 
Vol au-dessus d'un nid de coucou
Keyes
Daniel
Flowers for Algernon 
Des fleurs pour Algernon
King
Stephen
Carrie
Carrie
King
Stephen
Christine
Christine
King
Stephen
Cujo
Cujo
King
Stephen
Rita Hayworth and Shawshank Redemption
À l'ombre de Shawshank
King
Stephen
Shining, The
Shining, l'enfant lumière
King-Smith
Dick
Babe
Babe
Knowles
John
A Separate Peace 
Une paix séparée
Kohner
Frederick
Gidget
(non traduit)
Krist
Gary
Extravagance 
(non traduit)
Lebrecht
Norman
The Song of Names 
(non traduit)
Lahiri
Jhumpa
The Namesake 
Un nom pour un autre
Larson
Erik
 The Devil in the White City 
Le diable dans la ville blanche
McLaughlin
Emma
The Nanny Diaries 
Journal d'une baby sitter
Lawrence
D. H.
Lady Chatterley's Lover
L'amant de lady Chatterley
Lawrence & Lee
Jerome & Robert Edwin
Inherit The Wind
Procès de singe
Lee
Harper
To Kill A Mockingbird
Ne tirez pas sur l'oiseau moqueur
Lee/Neil/Mars/Sixx
 
The Dirt: Confessions of the World's Most Notorious Rock Band
(non traduit)
Lerner
Alan Jay
Brigadoon
Brigadoon
Lethem 
Jonathan
The Fortress of Solitude 
Forteresse de solitude
Levin
Ira
Rosemary's Baby
Le bébé de Rosemary
Levy
Andrea
Small Island 
Hortense et Queenie
Lipton
Lawrence
Holy Barbarians, The
(non traduit)
Lofting
Hugh
Doctor Doolittle
Doctor Doolittle
Macaulay
David
New Way Things Work, The
(non traduit)
Maguire 
Gregory
Wicked: The Life and Times of the Wicked Witch of the West 
Wicked
Mailer
Norman
Naked & The Dead, The
Les nus et les morts
Marquez
Gabriel Garcia
One Hundred Years of Solitude
Cent ans de solitude
Mars
Julie
A Month Of Sundays 
(non traduit)
Martel 
Yann
Life of Pi 
L'histoire de Pi
Martin
Valerie
Property 
Maîtresse
Maugham
Somerset
The Razor's Edge

 

Le fil du rasoir
McCarthy
Mary
A Bolt From The Blue & Other Essays
Le roman et les idées et autres essais
McCarthy
mary
The group
Le groupe
McCourt
Frank
Angela's Ashes
Les cendres d'Angela
McDonald
Gregory
Fletch
Fletch
McEwan
Ian
Atonement
Expiation
McKean
James
Quattrocento 
(non traduit)
McMurtry
Larry
Terms of Endearment
Tendres Passions
McNeill & McCain
Legs and Gillian
Please Kill Me: The Uncensored Oral History of Punk
(non traduit)
Melville
Herman
Moby Dick
Moby Dick
Mencken
H. R.
Mencken's Chresthonomy
(non traduit)
Mencken
H. R.
My Life As Author & Editor
(non traduit)
Metalious
Grace
Peyton Place
Peyton Place
Meyers
Phillip
Vanishing Newspaper, The
(non traduit)
Milford
Nancy
Savage Beauty: The Life of Edna St. Vincent Millay
(non traduit)
Miller
Arthur
Crucible, The
Les sorcières de Salem
Miller
Arthur
Death of a Salesman 
Mort d'un commis-voyageur
Miller
Henry
Sexus
La crucifixion en rose
Mitchell
Margaret
Gone With The Wind
Autant en emporte le vent
Monk Kidd 
Sue
 The Secret Life of Bees 
Le secret des abeilles
Moore
Michael
Fahrenheit 9/11
Fahrenheil 9/11
Moore
Barrington
Social Origins of Dictatorship & Democracy: Lord & Peasant in the Making of the Modern World
(non traduit)
Morrison
Toni
Beloved 
Beloved
Nabokov 
Vladimir
Speak, Memory 
Autres rivages
Nafisi Hazar
 
Reading Lolita in Tehran: A Memoir in Books 
Lire Lolita à Téhéran
Nietzche
Fredrich
Portable Nietzche, The
??
Niffeneger
Audrey
The Time Traveler's Wife 
Le temps n'est rien
Nordhoff & Hall
Charles & James Norman
Mutiny On The Bounty
Le mutiné du Bounty
Orringer
Julie
How to Breathe Underwater
Comment respirer sous l'eau
Orwell 
George
1984
1984
Otsuka 
Julie
When the Emperor Was Divine 
Quand l'empereur était un dieu
Pagels
Elaine
Gnostic Gospels
(non traduit)
Parker
Dorothy
Complete Stories
Nouvelles complètes
Parker
Dorothy
The Portable Dorothy Parker 
??
Patchett
Anne
Bel Canto 
Bel Canto
Patchett
Ann
Truth & Beauty 
(non traduit)
Picoult
Jodi
My Sister's Keeper 
Ma vie pour la tienne
Plath
Sylvia
Bell Jar, The
La cloche de détresse
Plath
Sylvia
The unabridged journals of Sylvia Plath
Journaux
Poe
Edgar Allen
Complete Tales & Poems 
Histoires extraodinaires/nouvelles histoires extraordinaires/poèmes
Poe
Edgar Allen
Raven, The
Le corbeau
Powell
Dawn
Complete Novels/Novels 1930-1942
Oeuvres complètes Dawn Powell 1930-1942
Powell
Dawn
Selected Letters of Dawn Powell
Correspondance
Pressfield
Steven
Legend of Bagger Vance, The
La légende de Bagger Vance
Proust
Marcel
Swann's Way
Du côté de chez Swann
Puzo
Mario
Godfather: Book 1, The
Le parrain - 1
Rand
Ayn
The Fountainhead
La source vive
Rawlings
Marjorie Kinnan
Yearling, The
Jody et le faon
Reger
Rob 
Emily The Strange
 
Rilke
Rainer Maria
Letters to a Young Poet
Lettres à un jeune poète
Roach
Mary
Stiff: The Curious Lives of Human Cadavers
(non traduit)
Robert
Henry
Robert's Rules of Order
(non traduit)
Robinson
Elisabeth
The True and Outstanding Adventures of the Hunt Sisters 
La prodigieuse aventure des soeurs Hunt
Rodgers
Mary
Freaky Friday
Freaky Friday
Rowling
J. K.
Harry Potter & The Goblet of Fire
Harry Potter et la coupe de feu
Rowling
J. K.
Harry Potter & The Sorcerer's Stone: Book 1
Harry Potter à l'école des sorciers
Rubin M.D.
Theodore Issac
David and Lisa
(non traduit)
Russo
Richard
Empire Falls 
Le déclin de l'empire Whiting
Salinger
J. D.
Franny And Zooey
Franny et Zooey
Salinger
J.D
The Catcher in the Rye 
L'attrape coeur
Salten
Felix
Walt Disney's Bambi (based on Original Story by Felix Salten)
Bambi
Sand
George  
Consuelo 
Consuelo
Schreider
Flora Rheta
Sybil 
Sybil
Sebold
Alice
The Lovely Bones
La nostalgie de l'ange
Sedaris
David
Holidays on Ice
(non traduit)
Sedaris
David
Me Talk Pretty One Day 
Je parler français
Segal
Erich
Love Story
Love story
Seuss
Dr.
How The Grinch Stole Christmas
Le grincheux qui voulait voler Noël
Sexton
Anne
Complete Poems, The
Poésies complètes
Shaefer
Jack
Shane
Shane, l'homme des vallées perdues
Shakespeare
William
A Comedy of Errors
La comédie des erreurs
Shakespeare
William
Hamlet
Hamlet
Shakespeare
William
Henry IV, Part 2
Henry IV partie 2
Shakespeare
William
Henry V
Henry V
Shakespeare
William
Julius Caesar
Jules César
Shakespeare
William
Macbeth
Macbeth
Shakespeare
William
Merry Wives of Windsor, The

>

Les veuves de Windsor
Shakespeare
William
Othello
Othello
Shakespeare
William
Richard III
Richard III
Shakespeare
William
Romeo And Juliet
Roméo et Juliette
Shakespeare
William
The Sonnets
Les sonnets
Shaw
George Bernard
Pygmalion 
Pygmalion
Shelley
Mary
Frankenstein
Frankenstein
Sherman
Wiliam Tecumseh
Memoirs of General W. T. Sherman
Mémoires du général Sherman
Shields
Carol
Unless 
Bonté
Sijie
Dai
Balzac and the Little Chinese Seamstress 
Balzac et la petite tailleuse chinoise
Sinker
Daniel
We Owe You Nothing - Punk Planet: The Collected Interviews (Edited)
(non traduit)
Smith 
Betty
A Tree Grows in Brooklyn 
Le lys de Brooklyn
Sobol
Donald
Encyclopedia Brown: Boy Detective
(non traduit)
Spinoza
Baruch
Ethics
L'éthique
Stein
Joseph
Fiddler On The Roof
Un violon sur le toit
Steinbeck
John
Grapes of Wrath, The
Les raisins de la colère
Steinbeck
John
Of Mice and Men
Des souris et des hommes
Stevenson
Robert Louis
Dr. Jekyll and Mr. Hyde 
Dr. Jeckyll et Mr. Hyde
Steves
Rick
Europe Through The Back Door, 2003
 
Stowe
Harriet Beecher
Uncle Tom's Cabin
La cabine de l'oncle Tom
Styron
William
Sophie's Choice
Le choix de Sophie
Susann
Jacqueline
Valley of the Dolls
La vallée des poupées
Suskind
Ron
The Price of Loyalty: George W Bush, the White House, and the Education of Paul O'Neill
(non traduit)
Tan
Amy
Joy Luck Club, The
Le club de la chance
Tan
Amy
The Opposite of Fate
(non traduit)
Taylor
Hobart Chatfield
Moliere: A Biography
Molière : une biographie
Thackeray
William Makepeace
Vanity Fair
La foire aux vanités
Thompson
Kay
Eloise
Éloïse
Thompson
Hunter S.
Fear & Loathing in Las Vegas
Las Vegas parano
Thompson
Hunter S.
Fear & Loathing: On The Campaign Trail '72
La grande chasse au requin
Thoreau
Henry David
Walden
Walden ou la vie dans les bois
Thurman
Judith
Secrets of the Flesh: A Life of Colette
Secrets de la chair - Une vie de Colette
Tolkien
J.R.R.
The Fellowship of the Rings: Lord of the Ring Book 1
Le seigneur des anneaux - 1
Tolkien
J. R. R.
The Return of The King: Lord of the Ring Book 3
Le seigneur des anneaux - 3
Tolstoy
Leo
Anna Karenina
Anna Karénine
Tolstoy
Leo
War And Peace
Guerre et Paix
Toole
John Kennedy
A Confederacy of Dunces
La conjuration des imbéciles
Tucker
Lisa
The Song Reader
Il était une fois
Twain
Mark
Adventures of Huckleberry Finn
Les aventures d'Huckleberry Finn
Twain
Mark
The Jumping Frog of Calavares County
La célèbre grenouille sauteuse du comté de Calaveras
Tzu
Sun
Art of War, The
L'art de la guerre
Uhry
Alfred
Driving Miss Daisy
Driving miss daisy
St Clair
John Upton

The Jungle 
La jungle

Vidal
Gore
The Last Empire: Essays 1992-2000
Essais 1992-2000
Vigorito 
Tony
Just a Couple of Days 
Dans un jour ou deux
Voltaire
 
Candide
Candide
Vonnegut
Kurt
Galapagos 
Galapagos
Vonnegut
Kurt
Slaughterhouse Five
Abattoir 5 ou la croisade des enfants
Waldo
Myra
Myra Waldo's Travel & Motoring Guide To Europe
 
Webb
Charles
Graduate, The
Le lauréat
Weisberg
Jacob
George W Bushisms: The Slate Book of the Accidental Wit & Wisdom of Our 43rd President
(non traduit)
Wells
Rebecca
Divine Secrets of the Ya-Ya Sisterhood, The
Le divin secret des petites Ya-Ya
Welty
Eudora
Collected Short Stories, The
Nouvelles
Wharton
Edith
Ethan Frome 
Ethan Frome
Wharton
Edith
Roman Holiday
Fièvre romaine
White
E. B.
Charlotte's Web
La toile de Charlotte
White
E. B.
Stuart Little
Le petit Stuart
Whitman
Walt
Leaves of Grass
Feuilles d'herbe (??)
Wiesel
Elie
Night 
La nuit
Wiggin
Kate Douglas
Rebecca of Sunnybrook Farm
(non traduit)
Wilde 
Oscar
The Picture Of Dorian Gray 
Le portrait de dorian Gray
Williams
Tennessee
A Streetcar Named Desire
Un tramway nommé désir
Wodehouse
P.G
The Code of the Woosters 
Bonjour, Jeeves
Wolff
Tobias
Old School 
Portrait de classe
Woolf
Virginia
A Room of One's Own
Une chambre à soi
Woolf
Thomas
Electric Kool-Aid Acid Test, The
(non traduit)
Woolf
Virginia
Mrs. Dalloway
Mrs. Dalloway
Wurtzel
Elizabeth
Bitch In Praise of Difficult Women
(non traduit)
Zafon
Carlos Ruiz
The Shadow of the Wind 
L'ombre du vent
 
 
Bhagava Gita, The
Le Bhagava Gita 
 
 
Compact Oxford English Dictionary, The
 
 
 
Rough Guide To Europe, The 2003 Edition
 
 
 
several biographies of Winston Churchill
 
Les inscriptions se font sur ce billet et resteront ouvertes un bon moment... jusqu'à ce que je décide de les fermer, en fait.
Pour ma part, j'ai l'intention de faire un copier-coller de la liste dans un autre billet, avec ce que j'ai lu dans tout ça et mes choix potentiels... Mais je suis une list-freak alors vous, vous faites ce que vous voulez!
Ah oui, pour ceux que ça intéresse, mes billets sur la série sont dans "Séries et autres trucs à l'écran" ;))
Edit: Ce qui compte, ce sont les nouveaux billets.  Ça peut être une relecture ou une ancienne lecture, I don't care!  Je ne vais pas aller vous surveiller!

Alors, qui en est?
Agnès -

Anou -

Céline -

Dryade de brume
Evertkhorus (officieusement) ;))
Sofynet -

Soukee - son billet et ses choix
Sophie -

Yueyin -
À PARTIR DE MAINTENANT, JE GARDERAI À JOUR SEULEMENT LE BILLET DE DÉPÔT DES LIENS.  "PARESSEUSE" IS MY MIDDLE NAME ALORS CE SERAIT VRAIMENT DU  WISHFUL THINKING DE CROIRE QUE JE SERAI CAPABLE DE GARDER DEUX BILLETS À JOUR  ALLONS-Y POUR LA FACILITÉ.  
Partager cet article